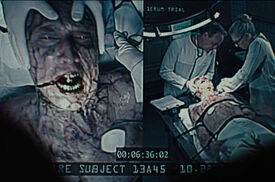 "Crank" is a slang term for someone infected with the Flare virus. "The Gone" is another term used for a stage of viral progression in those infected.
In the film series, Cranks are depicted as zombie-like creatures with strange vine-like growths protruding from their bodies. The book series clearly defines the differences between Cranks and regular zombies, however, as Cranks remain alive and have the ability to speak.
Ad blocker interference detected!
Wikia is a free-to-use site that makes money from advertising. We have a modified experience for viewers using ad blockers

Wikia is not accessible if you've made further modifications. Remove the custom ad blocker rule(s) and the page will load as expected.