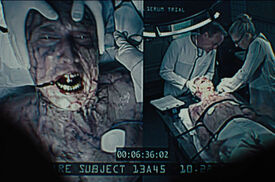 Crank is a slang term for someone who has been infected by the Flare virus. This is the reason WICKED is pulled together. They believe they can cure the Flare by mapping the killzone of the immunes, Gladers, but some of which are not immune. Cranks are people who were infected by the man made disease and are slowly growing crazier and will soon reach past gone. Once they have succeeded past the gone stage they can no longer be cured.
In the film series, Cranks are depicted as zombie-like creatures with strange vine-like growths protruding from their bodies.
Ad blocker interference detected!
Wikia is a free-to-use site that makes money from advertising. We have a modified experience for viewers using ad blockers

Wikia is not accessible if you've made further modifications. Remove the custom ad blocker rule(s) and the page will load as expected.