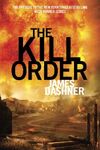 The Kill Order is James Dashner's prequel to the New York Times bestselling Maze Runner Trilogy. The novel was published on August 14, 2012, and tells the story "before WICKED was formed, before the Glade was built, and before Thomas entered The Maze, a time when sun flares hit the earth and mankind fell to disease. The story features new characters named Mark and Trina who survive the initial apocalyptic devastation, but of course, their struggles do not end there.
Ad blocker interference detected!
Wikia is a free-to-use site that makes money from advertising. We have a modified experience for viewers using ad blockers

Wikia is not accessible if you've made further modifications. Remove the custom ad blocker rule(s) and the page will load as expected.