The Maze Runner Wiki is a free, public and collaborative encyclopedia dedicated to James Dashner's Maze Runner Trilogy that anyone can edit!


Our database currently contains 137 articles and 551 images.
Editing · Help · Templates · Categories · Admins · Articles Needing Help

IMPORTANT NOTICE: Please respect all views and all perspectives. This wikia is meant for a better understanding of the novels, and for a strong, friendly community. Hateful or vulgar posts against someone or something can and will be removed by the Admins. Thank you for reading this notice; please spread the word, and keep it nice. This Wikia contains major spoilers from the book series and the movie, and they are in no way censored.

---
Click here for more characters...
---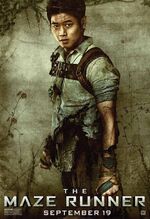 Minho Is the Keeper of the Runners in The Maze Runner. When Minho first appears, he is found by Thomas laying on the ground from exhaustion as he'd just gotten back to the Homestead from the Maze. Thomas calls for Alby and is directed by Minho to get him water. Alby tells Thomas that Minho is the only one who can boss around him like that. It is later revealed to be one of few characters to survive to the final book, The Death Cure.
Read More...
---




Are you going to watch The Maze Runner movie?
See more polls...
---

Loading RSS data...

---
Create blog post
I stared the first book after I got it for Christmas in 2014. After I started I could not put it down. I kept reading and blazed through all of the books!! Now, I feel like I have never loved any set…

Read more >
See more >
Administrators