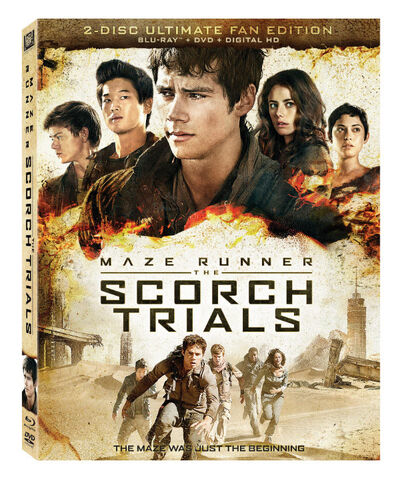 Gladers! The MAZE RUNNER: THE SCORCH TRIALS Ultimate Fan Edition is something that you should be adding to your Christmas list. It will include a 24-page printed comic-book with two new prequel stories from BOOM! Comics. The prequels will focus on Teresa Agnes and Crank Palace. Also there will be two hours of thrilling bonus content, including deleted and extended scenes, a gag reel, and much more!!
MAZE RUNNER: THE SCORCH TRIALS BLU-RAY™ & DVD SPECIAL FEATURES
DVD SPECIAL FEATURES

Deleted and Extended Scenes with Audio Commentary from Wes Ball, T.S. Nowlin, Joe Hartwick Jr. and Dan Zimmerman

Food Fight
Storage Depot Walk – Meet Janson
Bunker Escape – Minho Knows the Way
Mall Walk - Escalators
Mall Attack – Goodbye Jack
Scorch Travel – Teresa on Bridge
Scorch Travel – Helping Winston
Newt & Thomas at Campfire
Extended Jorge Lair Walk

Cranks Attack WCKD Soldiers
Extended Zipline

Jorge Lair – Brenda Fires Back
Extended Tunnel Walk
Extended Crankland WCKD Arrives

Gag Reel
Galleries
Theatrical Trailers

BLU-RAY SPECIAL FEATURES

All of the DVD Special Features
Janson's Report
Secrets of the Scorch

The Second Chapter Begins…
Creating a Scorched Earth
New Friends and Enemies
Surviving the Scorch
Creating the Cranks
On the Edge: Constructing the Skyscraper Sequence

Visual Effects

Visual Effects Breakdowns

Optional Commentary by Wes Ball
Bunker Entrance
Hiding from WCKD
Building Collapse

Visual Effects Reel

Bunker Entrance
Bunker Escape
Mall
Scorch Travel
Lightning Storm
Jorge's Lair
Tunnels / Leaning Building / Crankland
Right Arm Camp
Will this be something you ask Santa Claus for? And what special feature are you most excited to watch? Post in the comments below!
---
---
Ad blocker interference detected!
Wikia is a free-to-use site that makes money from advertising. We have a modified experience for viewers using ad blockers

Wikia is not accessible if you've made further modifications. Remove the custom ad blocker rule(s) and the page will load as expected.